1st January, 2010 - Lewin's Rail - again!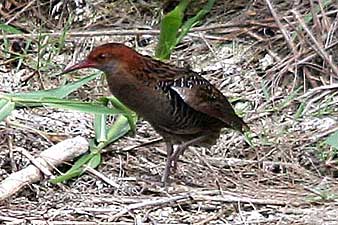 Lewin's Rail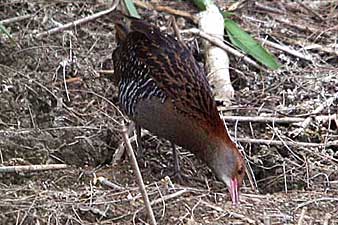 We saw a Lewins' Rail briefly from the verandah on 18th December, couldn't get any photos, spent many long hours watching and watching without another sighting and assumed it had been just passing through. No less special for that, a wonderful addition to the Abberton list, but presumably just a one-off moment of excitement to be replayed in our heads for years to come.

Until it reappeared today!

This-afternoon, when I glanced out across the verandah and down to the creek (as I do many times every day) I spotted a darkish shape on the opposite margin.
I routinely reached for my binoculars to check it out - and there was a Lewin's Rail!

After a few record shots from the verandah, I set off for the creek edge by a circuitous route. The rail stood in the open for a couple of minutes preening, then wandered along the margin, with short diversionary runs into and out of the thick creekside vegetation.

I headed for a big Callistemon which would give me good cover on my side of the creek bank. As I stood immobile close under the tree, the Lewin's Rail meandered into view on the margin directly opposite. So, two sightings now, approximately two weeks apart. Both in the same location,and both in the lateish afternoon.

Has this bird been here for the whole of the past two weeks? I'll have to spend more time on the verandah.......
---

January, 2010 - Pectoral Sandpiper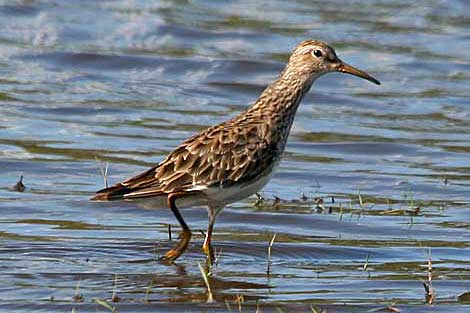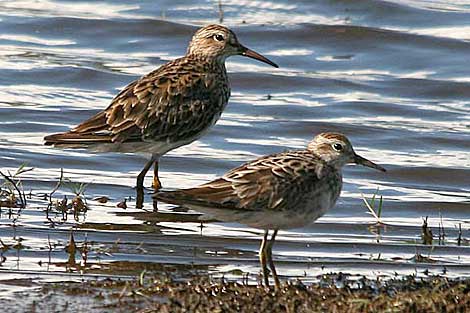 This Pectoral Sandpiper has been present on a local lagoon since mid-December.
The characteristics which mark it out from the many Sharp-tailed Sandpipers that are commonly here at this time of year are several, but for the most part subtle.
Congratulations and thanks to Michael Atzeni who first saw the bird, and recognised it for what it was - a once in a decade visitor to the valley.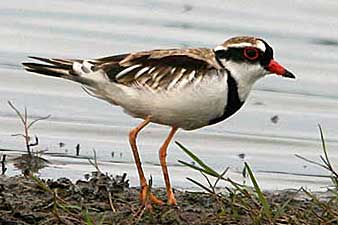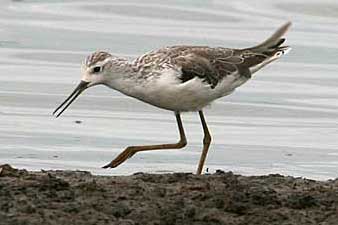 Three other species at the same lagoon as the sandpipers.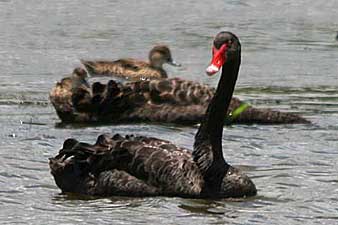 Black Swan
---

elsewhere in the valley

Galahs in a sea of sorghum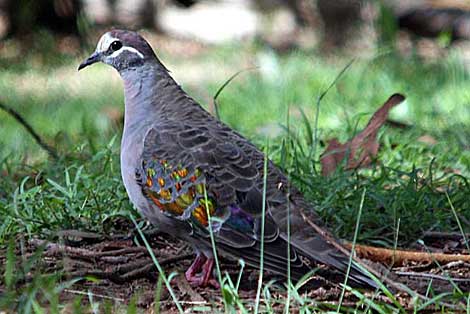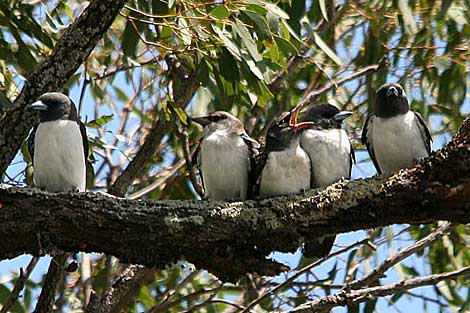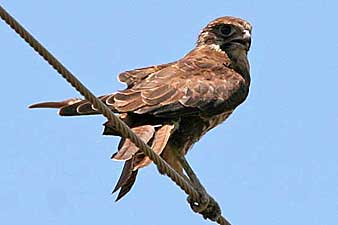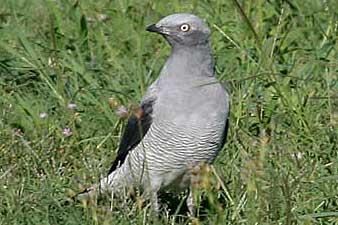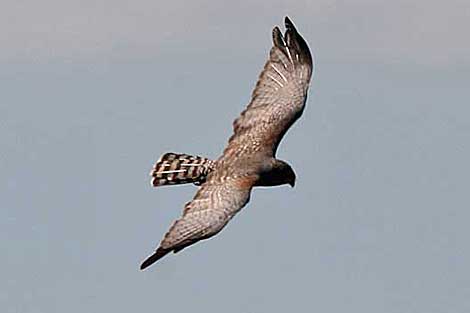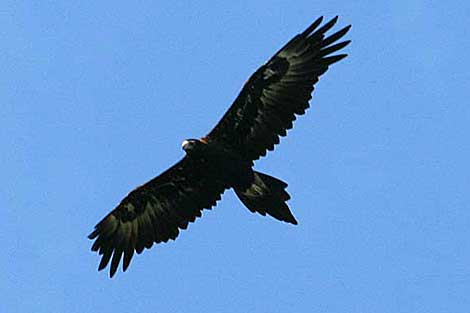 ---

inland a little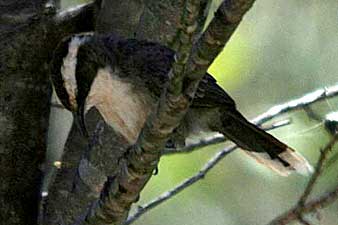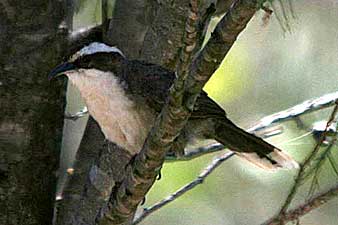 You need to travel an hour or two south-west from here to find White-browed Babblers, where their range which is mostly through southern Australia just creeps up a little across the Queensland border.I couldn't get a clean shot of these birds out in the open, but their wholly dark crown can be seen in these photographs. By contrast, below is a photograph of our bigger local bird, the Grey-crowned Babbler, whose broad eyebrow extends up on to the sides of the crown - only the centre of which is actually grey.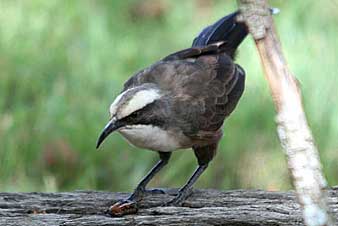 Another bird which prefers the drier forests, the Brown Treecreeper is more likely to be seen feeding on the ground
or exploring a fallen log than in 'classic' treecreeper pose on the trunk of a tree.
---

and a couple of honeyeaters at Mt Glorious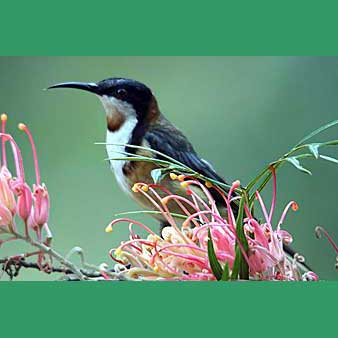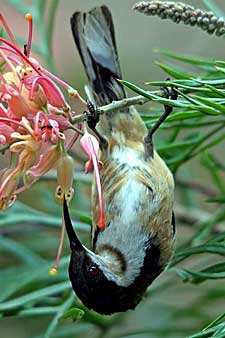 Eastern Spinebills - which are widely spread .....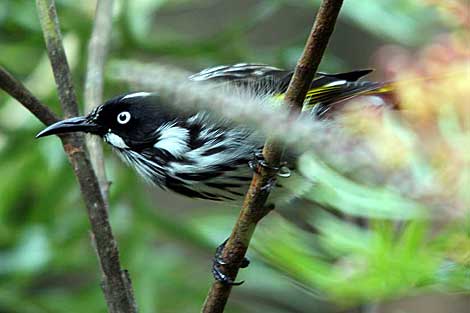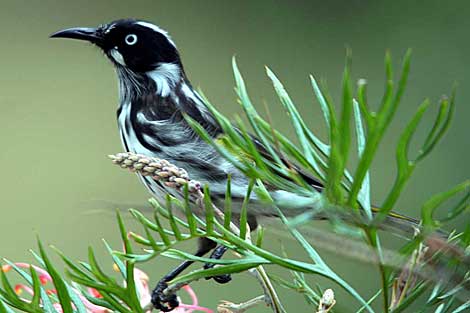 and New Holland Honeyeaters - which have a much more limited distribution in Queensland
---

February, 2010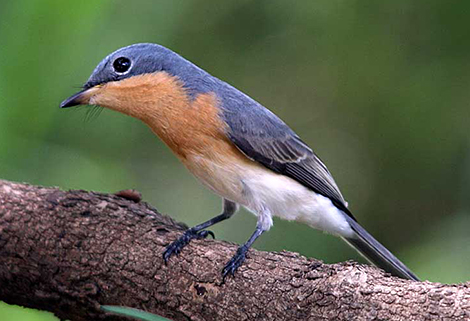 Leaden Flycatcher - female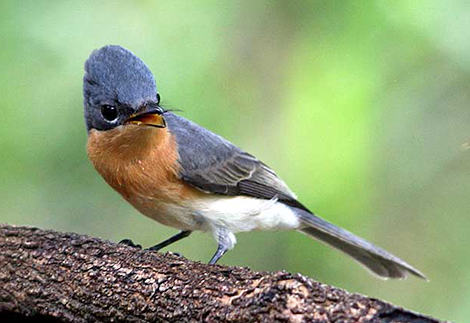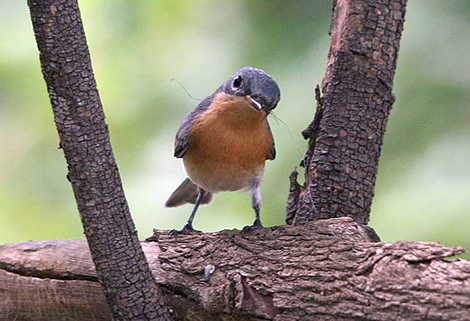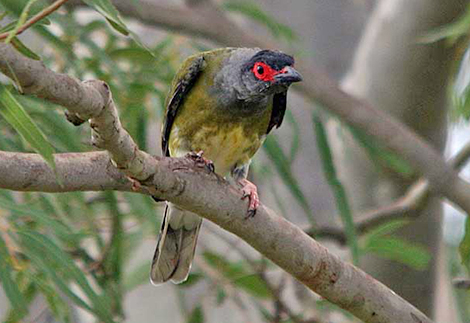 Australasian Figbird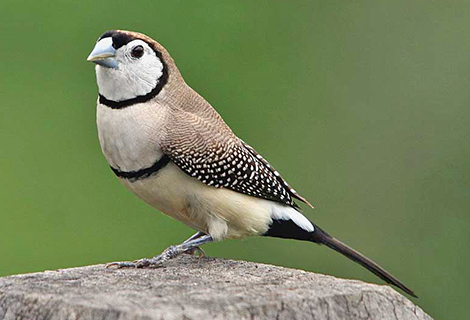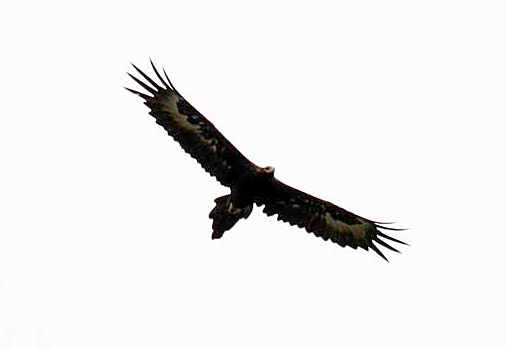 ---

23rd March, 2010 - Southern Boobook and others
This-morning, I inadvertently flushed a Southern Boobook that was roosting high inside our car shed.

She (a biggish owl, so likely female) flew only a few metres to an adjacent acaia tree, allowing me to take a few photos. I'm glad to say that when I checked the shed later, from a distance, she was back in her chosen roosting location and looking very settled.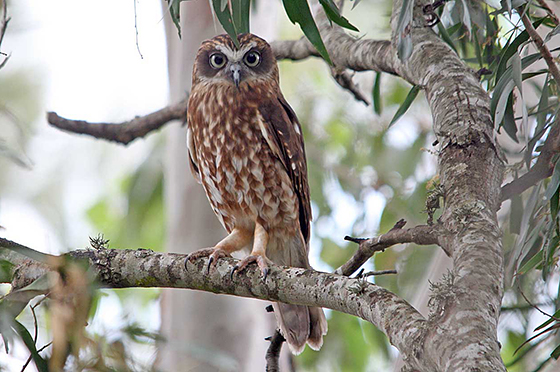 Southern Boobook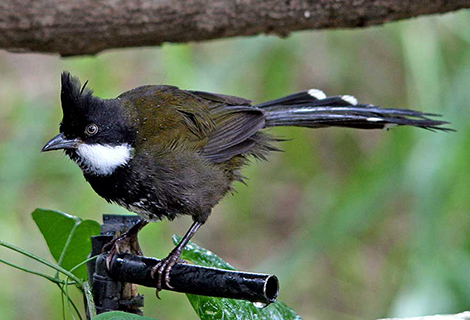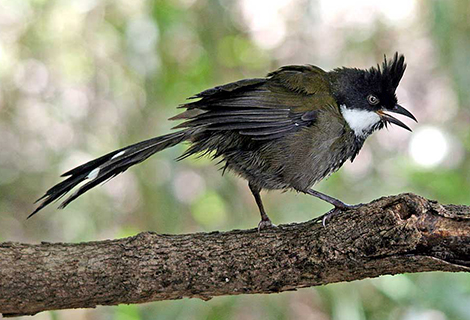 Eastern Whipbird, taken from my desk on one of their regular daily visits to the birdbath just outside the window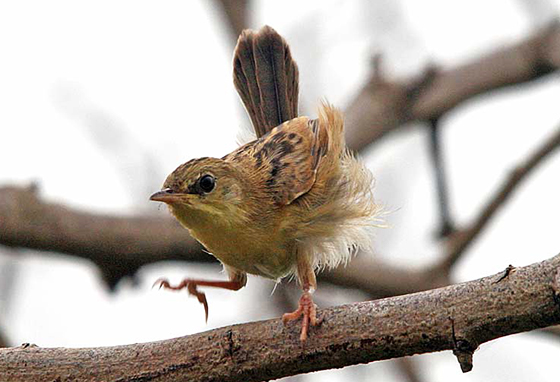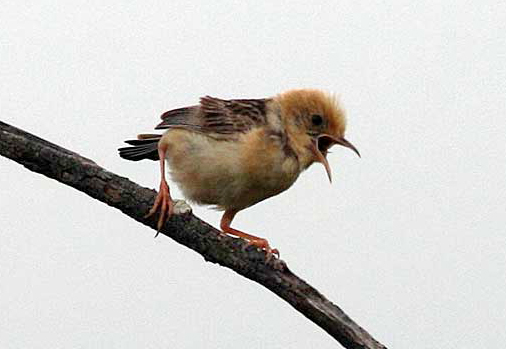 Golden-headed Cisticolas abound just now.


---

27th March, 2010 - Autumn birds
A lot of birds are coming through the garden in these early days of Autumn - over and above the residents and the regulars. We've had a couple of Rufous Fantails recently, Spangled Drongos, Leaden Flycatchers, Pacific Bazas, and today Fantailed Cuckoo and Grey Goshawk.

Pacific Bazas nested in the same fork of the same tree in our garden for five consecutive years - about 20 years ago. We became very used to having them around and to hearing their range of different calls when they were on the nest, bringing food, coming in to change over, and so on. We relaxed into thinking this was the way it would always be - we could see their nest from the kitchen window. Then they missed a year, and the next, and every year since.

From time to time we see a Baza skimming over, sometimes family parties. Around breakfast time yesterday there was a lot of action when two Pacific Bazas were circling very low over the house and garden under harassment from a Brown Goshawk.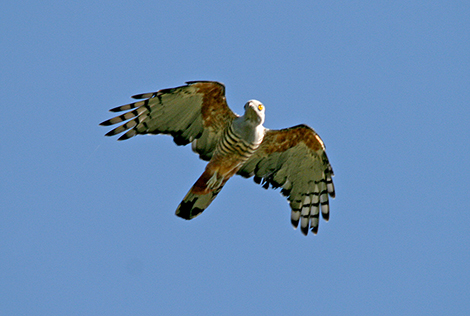 Pacific Baza
I managed this photo when one of them broke away and coasted over the verandah to settle in a nearby Forest Red Gum. House-hunting maybe?



The Fan-tailed Cuckoo was calling incessantly before breakfast, very close to the house. It was impossible to ignore, so I had to go out and find it.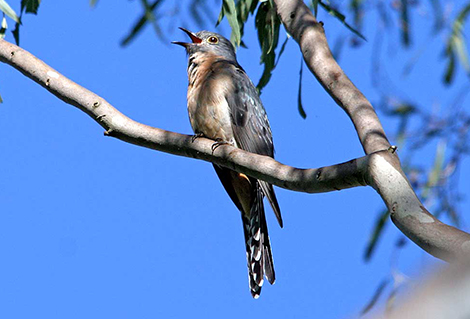 Fan-tailed Cuckoo


The Southern Boobook is still roosting in the shed, right above the spot where I usually park my car - so the car has been left on the driveway for the last five days.
She is tolerant of me if I walk or drive past, but I don't want to go in there. If I need anything from the shed, I shall have to get it under cover of darkness the night before.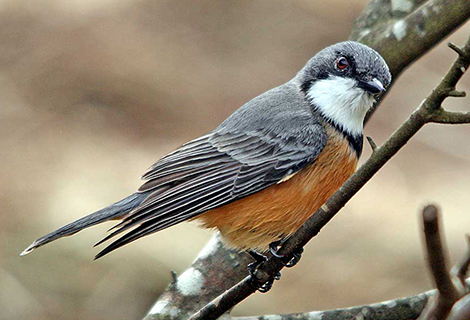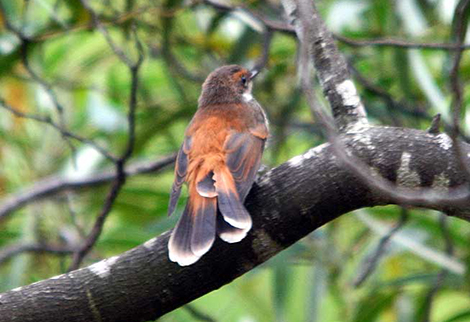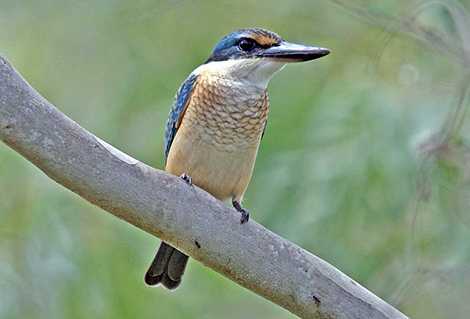 Immature Sacred Kingfisher


---

April/May, 2010 - Southern Boobook still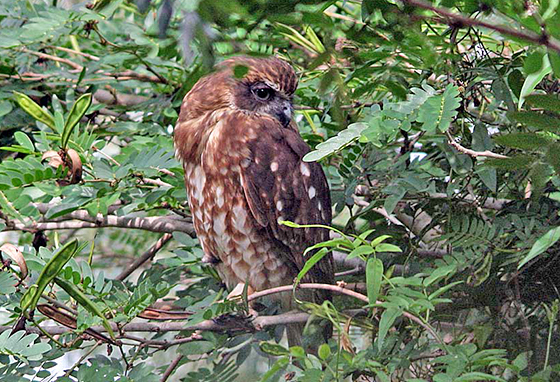 Southern Boobook

The Southern Boobook is still in the garden every day, though not always in the same place. The shed was her favoured roost for nearly a week, but since then she has alternated between two other locations, a young Frangipani - no more than 2 metres off the ground, and most recently a Calliandra bush just outside our bedroom.

Wherever she turns up becomes a no-go area for us for the rest of the day. We left the car out in the open for nearly a week till she opted to vacate the shed. The front door and verandah were out-of-bounds for most of Saturday when we spotted her roosting in the Calliandra. She snoozed the day away there - I took the first photo above from the bedroom window.

When we know she is in the Frangipani alongside the steps from the garden up to the back verandah, we take detours to avoid disturbing her. But I did accidentally flush her from there on Easter Sunday, and she flew out and away from me up onto the main verandah, settling on the top of a step-ladder - where she stayed for the whole afternoon.

Another job abandoned before it started!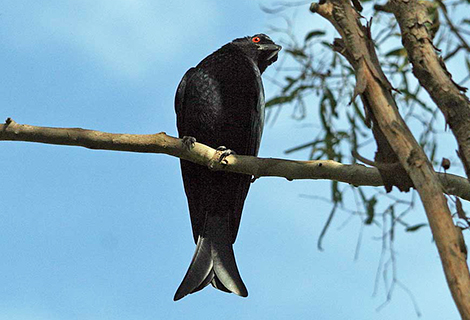 Spangled Drongo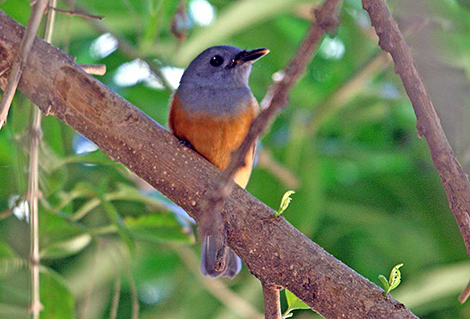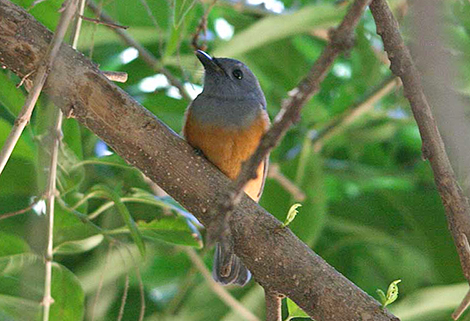 Immature Black-faced Monarch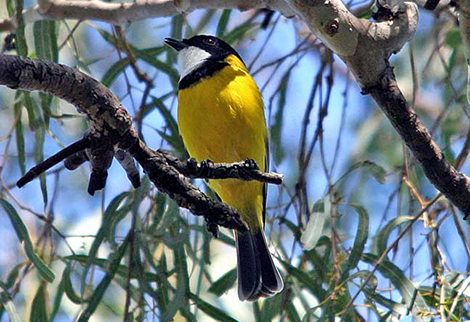 Golden Whistler


---
There are several cuckoos around the garden most days.
We hear Horsfield's Bronze-Cuckoo and Shining Bronze-Cuckoo frequently just now, and a Fan-tailed Cuckoo has been calling incessantly over the last few days.
The photo below is from the other day - but I can hear him calling right now as I'm typing.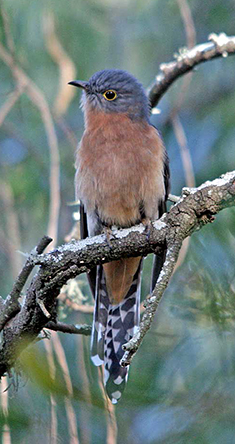 Fan-tailed Cuckoo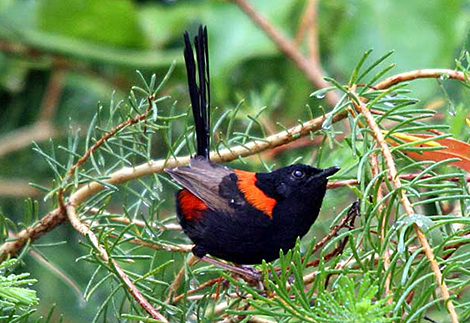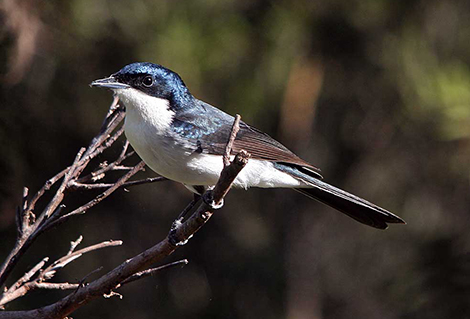 ---
We have an influx of White-bellied Cuckoo-shrikes into the tops of the trees close to house,
One of them is a male of the dark morph race. I haven't managed to get a good photo of the dark male yet, but I'll include the one that I have got, just for the record.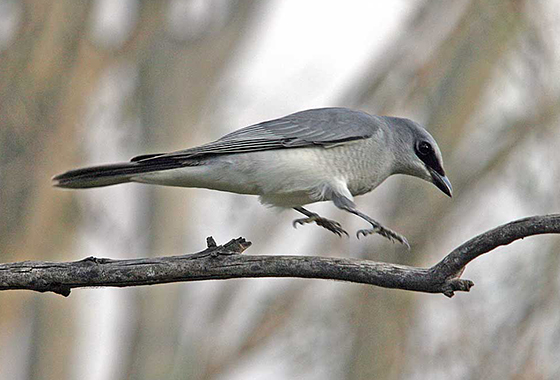 White-bellied Cuckoo-shrikes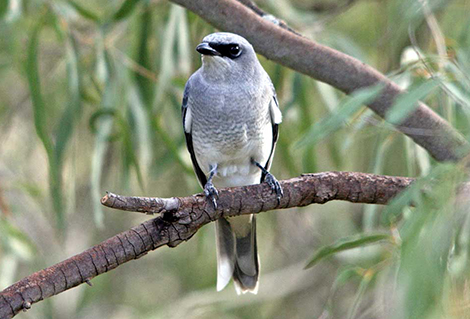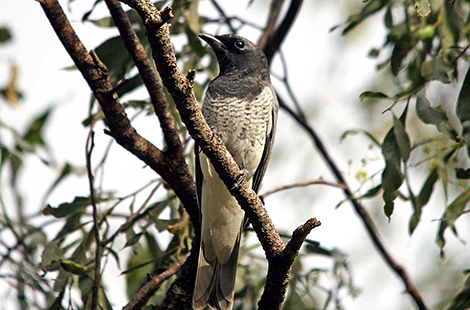 ---
The Southern Boobook is still with us - she has been roosting within a few feet of the house every day now for a couple of months. (63 days to date).
---

June/July, 2010 - Some birds at the water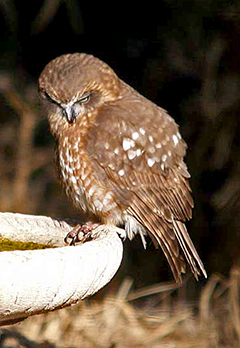 Southern Boobook


The first thing I do each morning is to go to the kitchen and raise the blind to see what's happening on that side of the house. When I did so this-morning, it was to find our resident Southern Boobook sitting on the rim of a birdbath enjoying the first warm rays of the winter sun.

I've often seen crows washing their prey in that same birdbath, also the occasional goshawk and sparrowhawk, so I wondered if perhaps she might have just finished dining on something. She looked quite settled and stayed sitting there quietly for the next 20 minutes or so before disappearing to her selected roost for the day.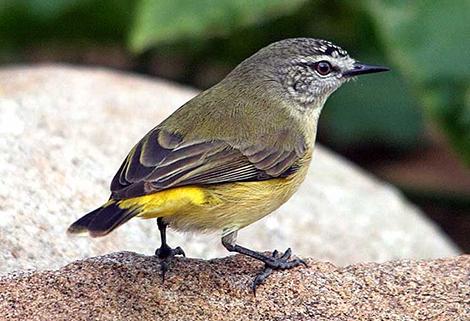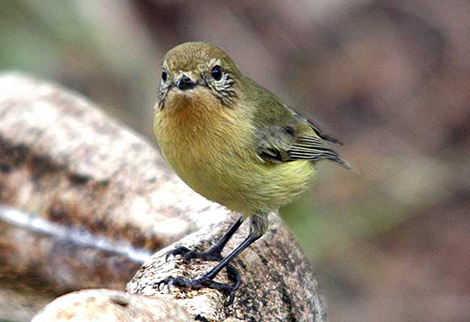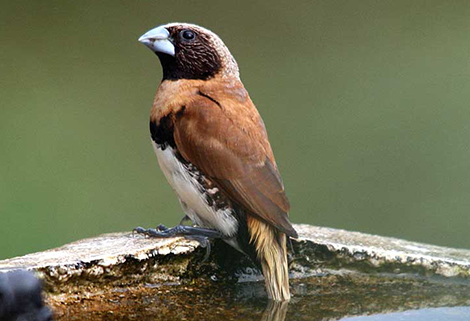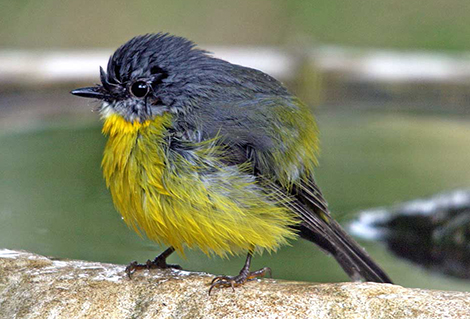 ---

August, 2010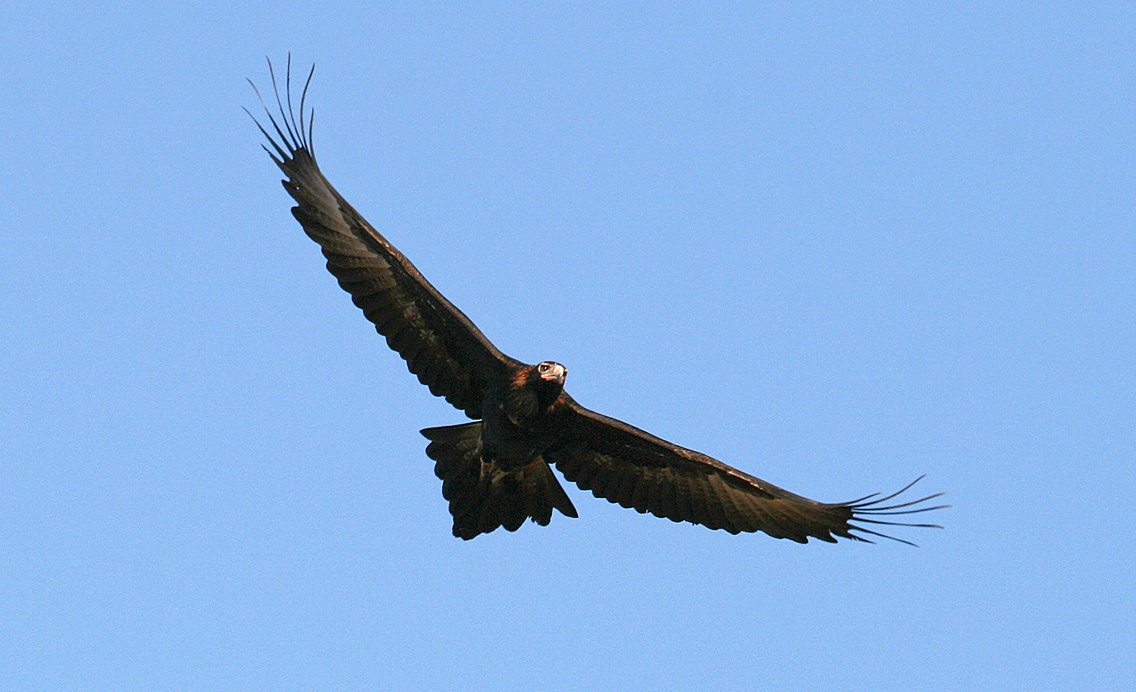 Wedge-tailed Eagle under minor harrassment from an Australian Magpie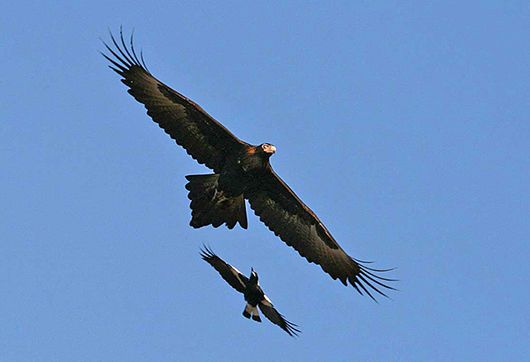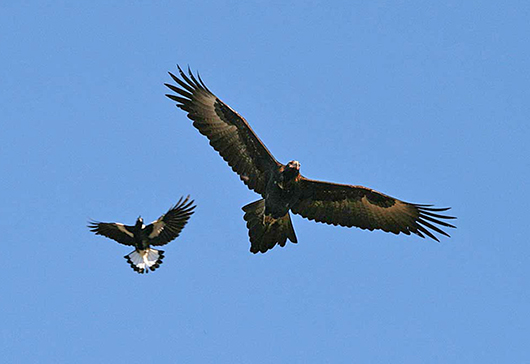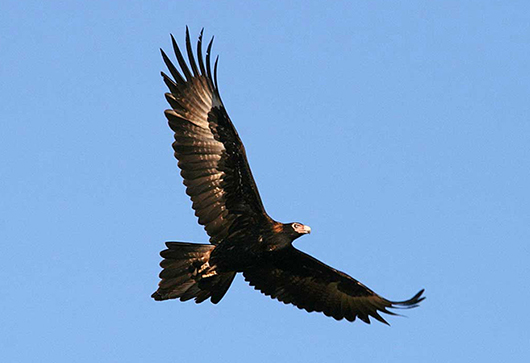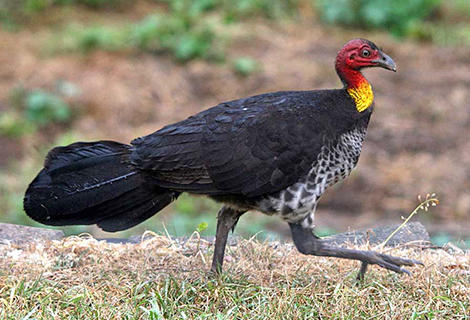 Australian Brush Turkey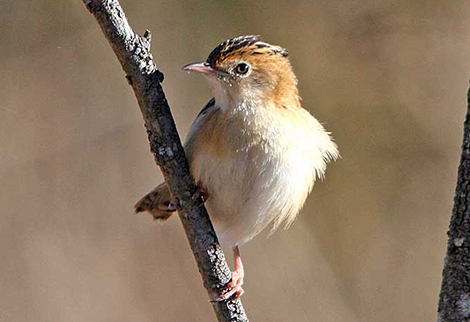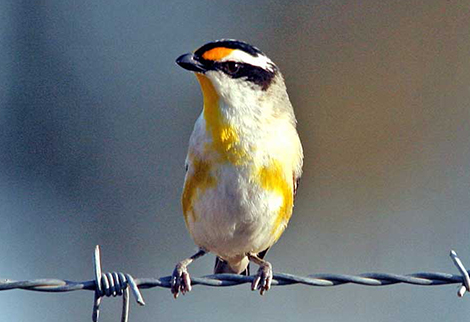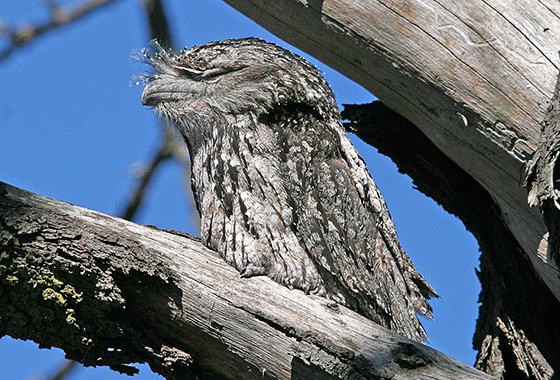 Tawny Frogmouth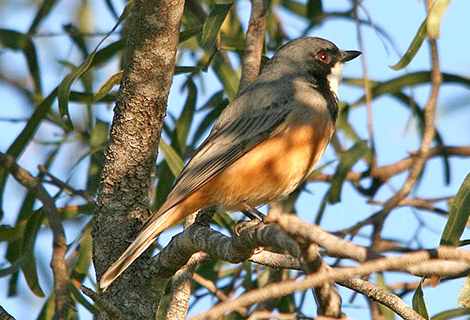 ---

September, 2010



Fairy Martins gathering creekside mud for nest construction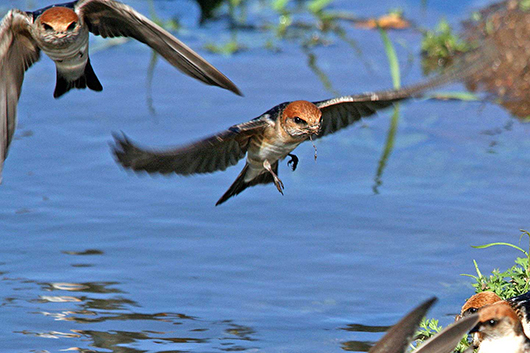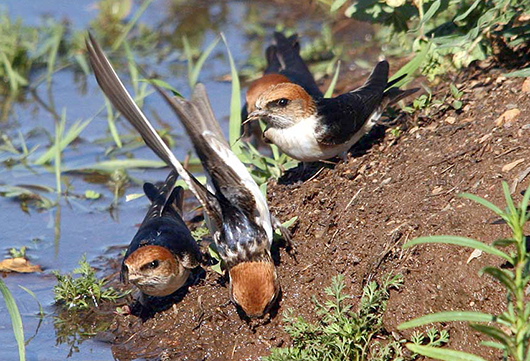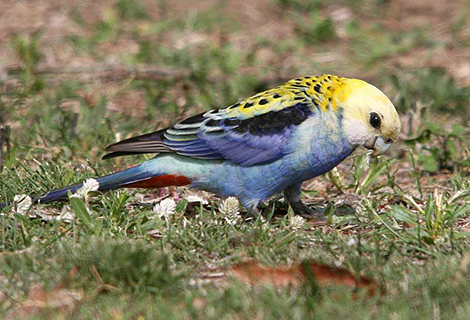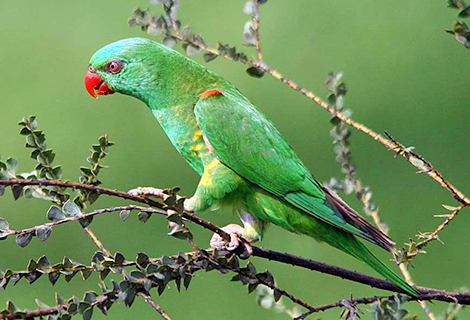 Scaly-breasted Lorikeet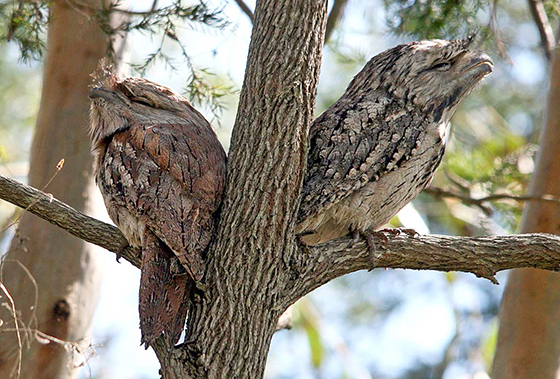 Tawny Frogmouths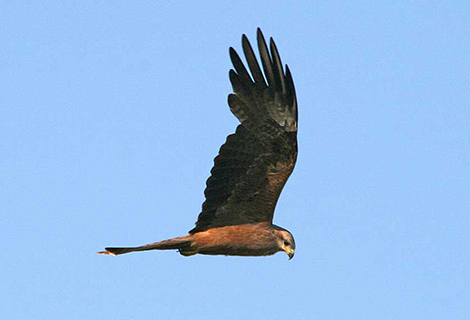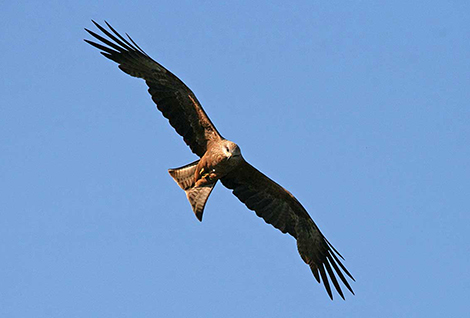 Black Kite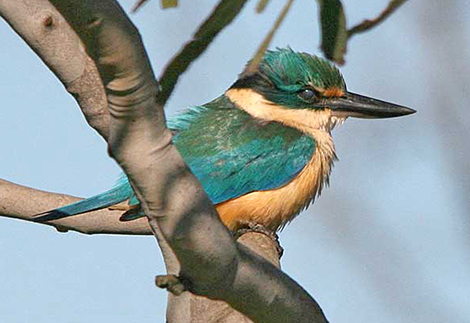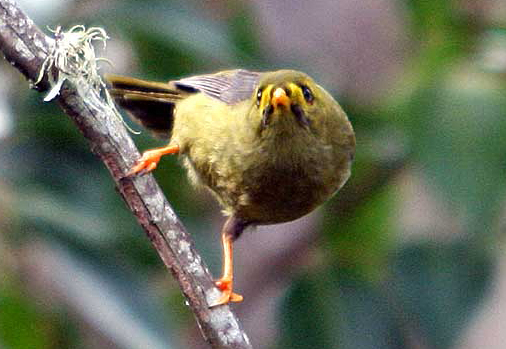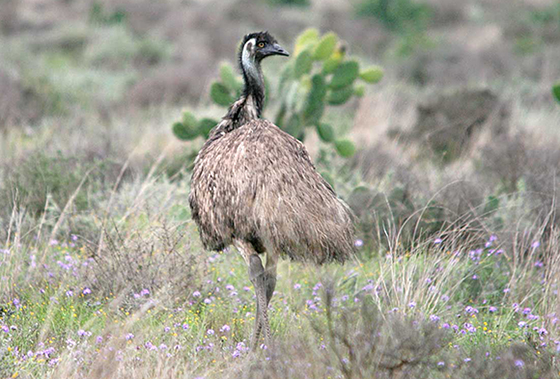 Emu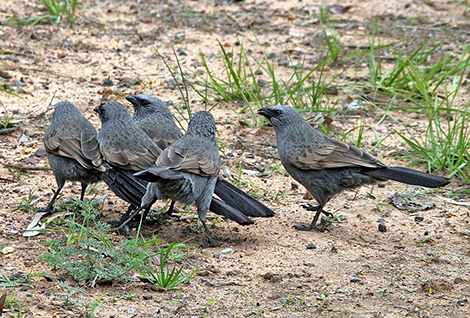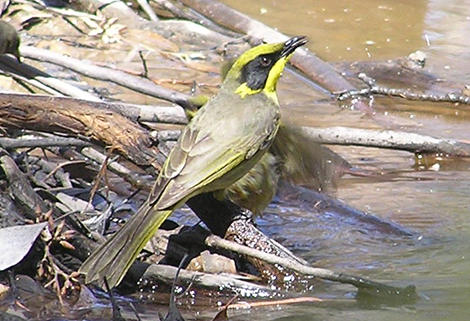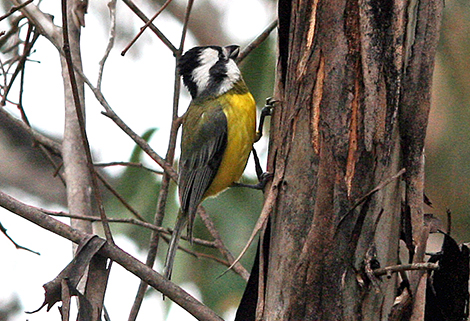 Crested Shrike-tit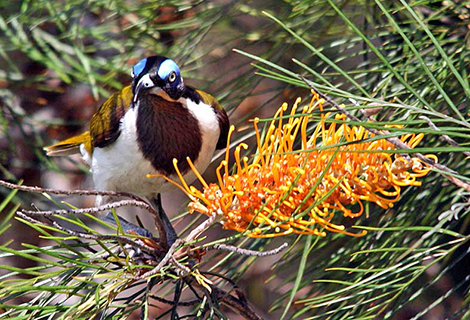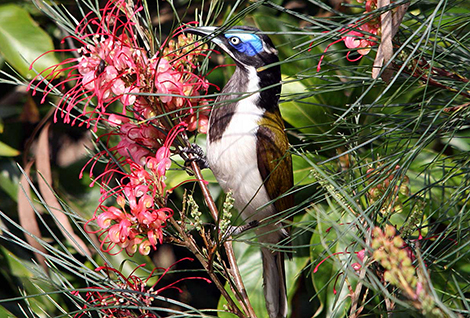 Blue-faced Honeyeater



---

October, 2010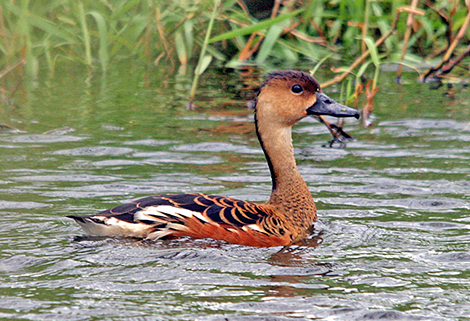 Wandering Whistling-Duck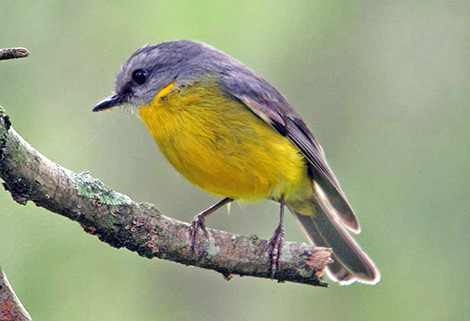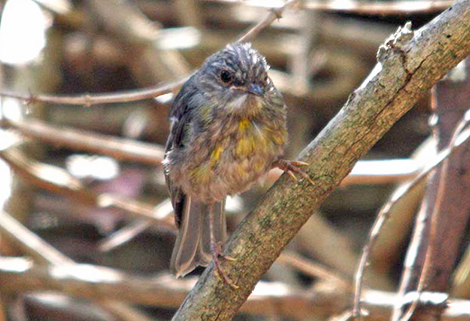 Eastern Yellow Robins have nested in the garden - adult and juvenile above.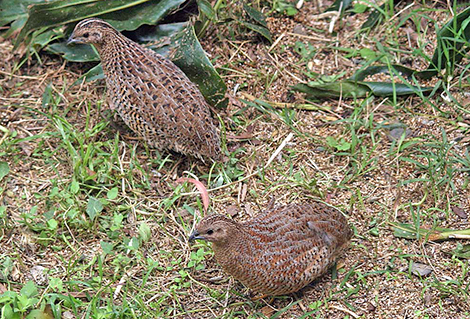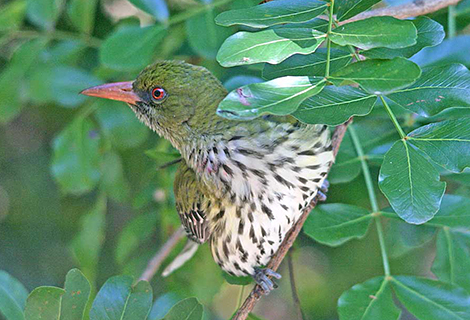 ---

November/December, 2010
December 30, 2010 - Update! I find that I haven't updated since June! I've got so many photos that are waiting to go on the Abberton website, that I thought I'd catch up that way, rather than send out a string of postings with pics. In the event, as so often happens, I didn't manage to do either.
Hence, a few months of photos all at once!

On Boxing Day (Sunday)we were watching a platypus feeding close to the bank, next day the creek as we know it disappeared under a big flood of water from recent persistent rain, but by Wednesday afternoon we were watching the platypus again in the shallows opposite the house.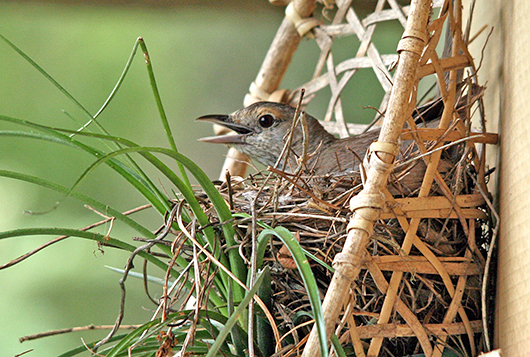 Grey Shrike-thrushes sharing incubation duties - male on the left, female on the right


Throughout this rainy spell a pair of Grey Shrike-thrushes have built a nest on the verandah, laid 3 eggs, and incubated for about a fortnight so far, sharing duties in about 45 minute spells.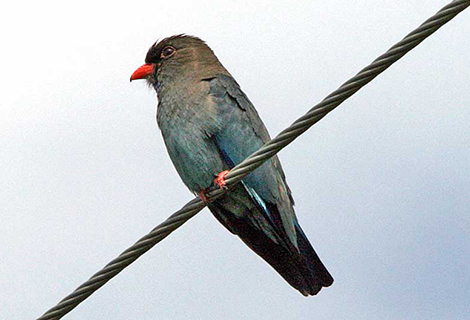 Dollarbird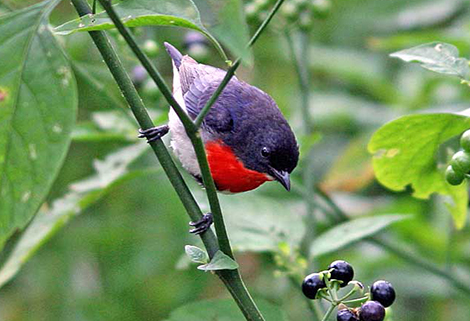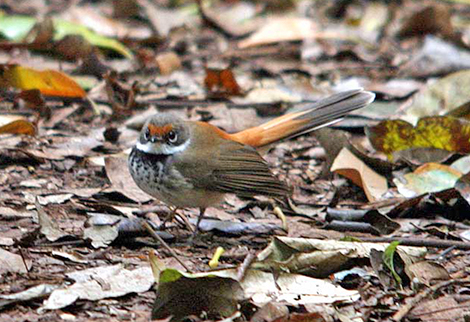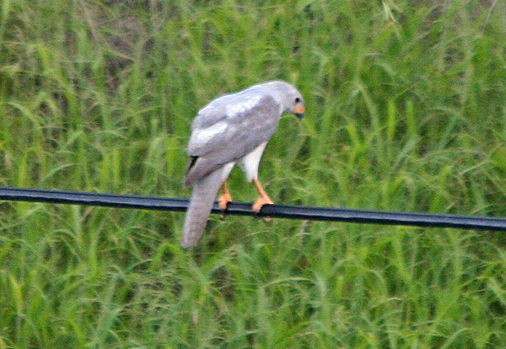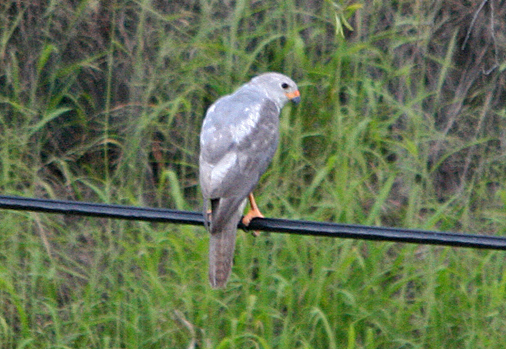 A couple of shaky shots from indoors of a Grey Goshawk scouting from a cross-creek cable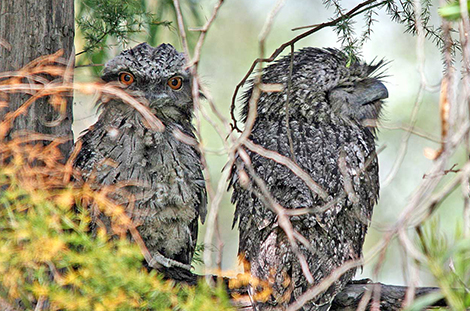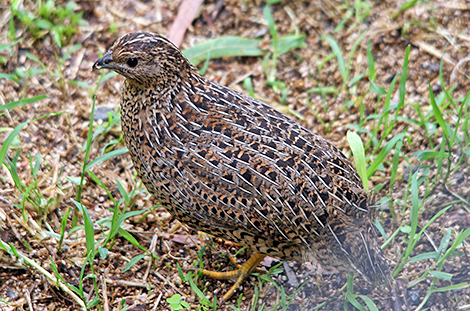 Black-necked Stork flyover - close by their only regular nesting location in the valley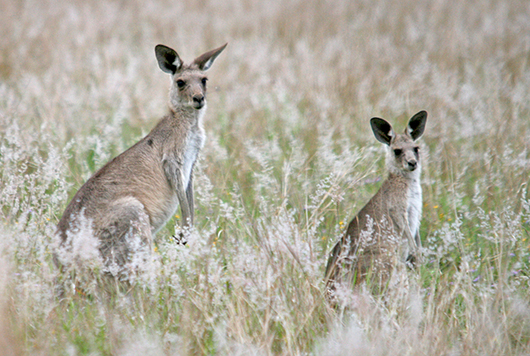 Eastern Grey Kangaroos



---

2011
The heavy rain over the last couple of months culminated on 10th January in a brief but spectacular flood, with significant effect on the creek and the garden.

Our house, many metres higher than the normal creek level suffered a brief inundation of water, around only two hours all up,
but unpleasant and inconvenient for all that. However, no structural damage occurred.


Subsequent studies of sedimentary core samples locally have revealed this to have been a fewer than once in a millenium event. The official investigation into the flood was provided with scientific papers which demonstrated that similar events have occurred hereabouts only seven times in the last 10,000 years! That's good to know!


Footnote:
Consequent upon the flood, the creek banks were stripped of much of their vegetation and the creek itself is now wider and shallower than hitherto. It looked a little sorry for a while. However, with a lot of help from friends too numerous to list here, we embarked on a programme of full-scale revegetation of the area between the house and the creek.

Four years on, all our birds, mammals and other wildlife has returned, (koalas remained resident throughout, platypus are regular once more) and not only have we revegetated a native forest on this side of the creek, the opposite side has also regenerated magnificently. And our bird list has continued to grow with the addition of a few species along our new area of shingle shore opposite, along with several additional woodland species.


---

January-April, 2011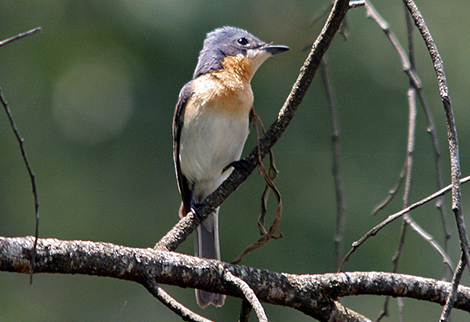 Female Leaden Flycatcher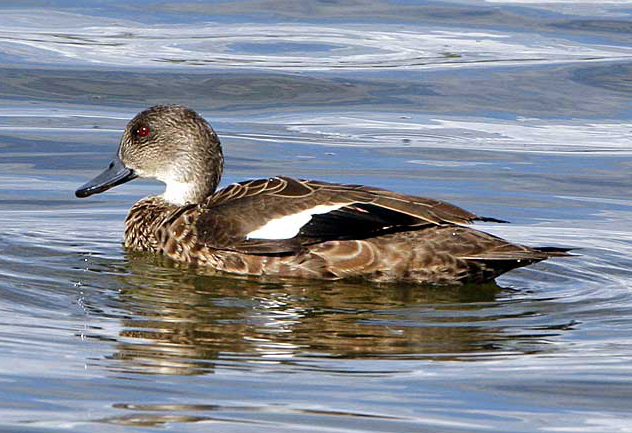 Grey Teal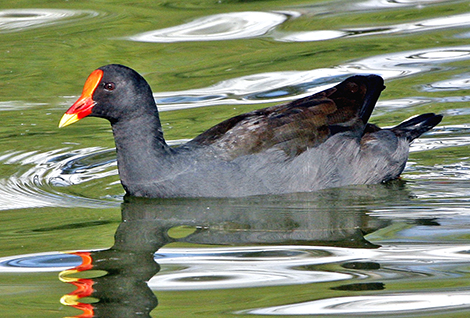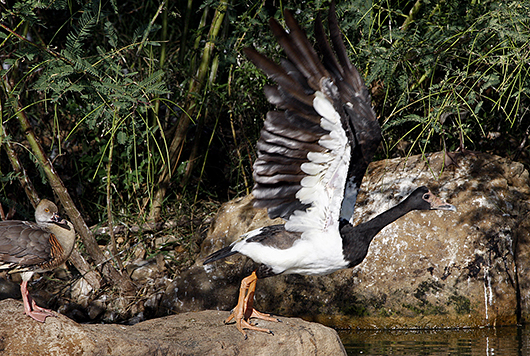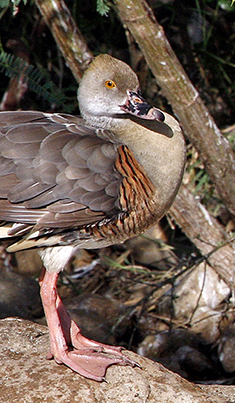 The same Plumed Whistling-Duck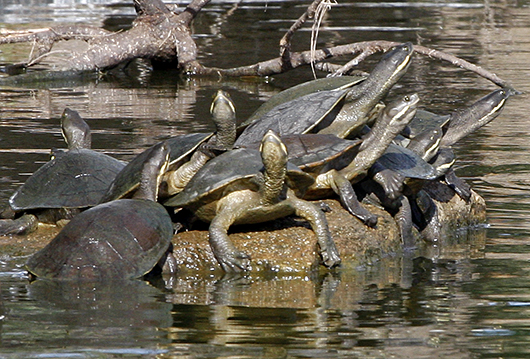 Variously called Short-necked Turtle or Brisbane River Turtle this is our most common river turtle locally



---

May, 2011
Seeing a Square-tailed Kite approaching from the north over Helidon, exploring the tree-tops as it came, I decided to chase it with the camera (and the car) and pursued it doggedly for about 30 minutes, attempting the odd shot. Of course, the bird wasn't helping any - it didn't follow the roads, and frequently changed direction on a seeming whim, but I felt confident enough about the general trend of its path to go ahead a kilometre or so at one stage in the hope of waylaying it. And it worked. It approached the copse of trees I had chosen, and circled several times over it. I got great full-frame shots, and even had to pull the lens back to around 200mm to capture the whole beautiful bird. Crackerjack shots, I thought! Couldn't hope for better - I thought!

So, great excitement at the prospect of viewing the results! And considerable disappointment when I saw them - alleviated only when I spotted that the mode dial on the camera had been shifted several notches from where it should have been. It's a new camera - I'd better watch out for that in future.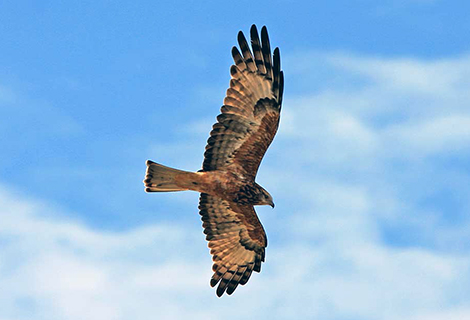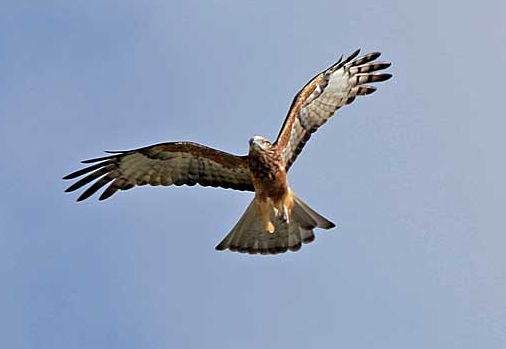 Square-tailed Kite


Anyway, better luck the next day, so here are my first 'successful' shots with the new camera, taken from the car.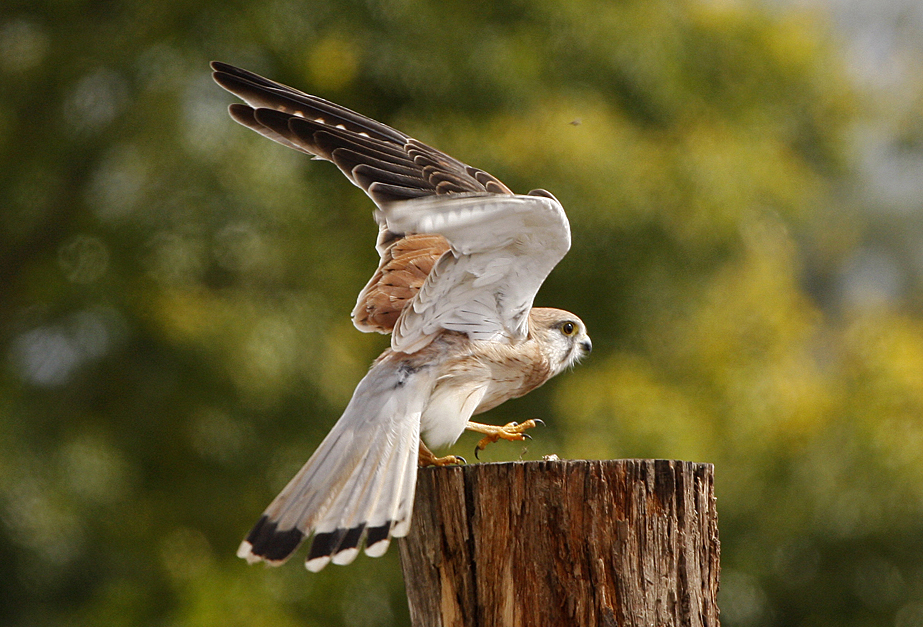 Nankeen Kestrel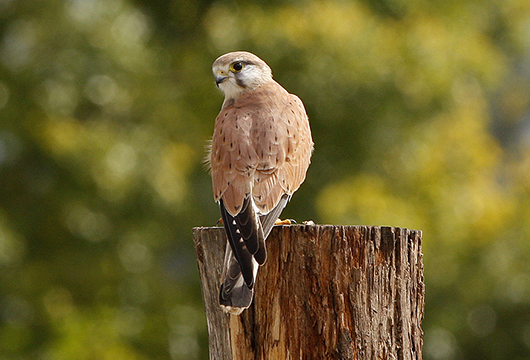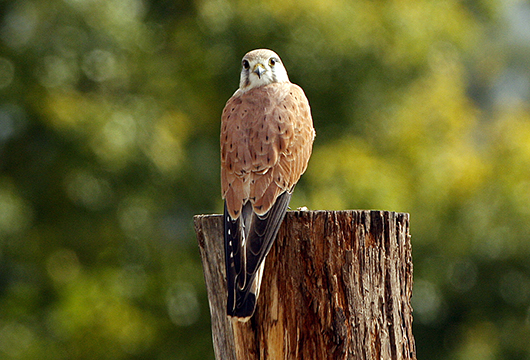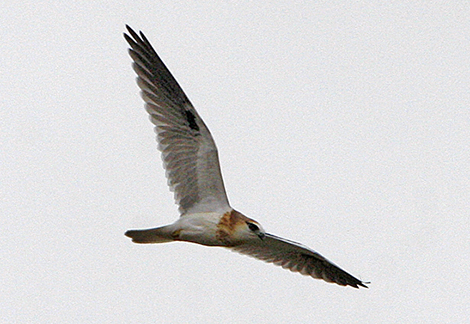 Immature Black-shouldered Kite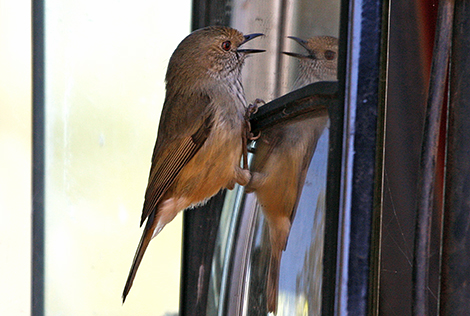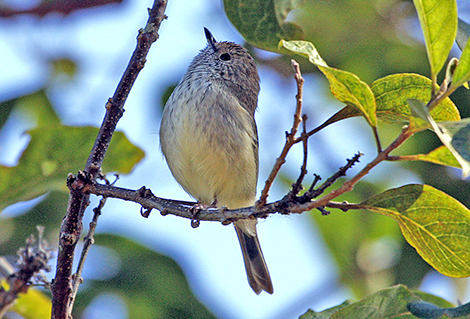 Brown Thornbill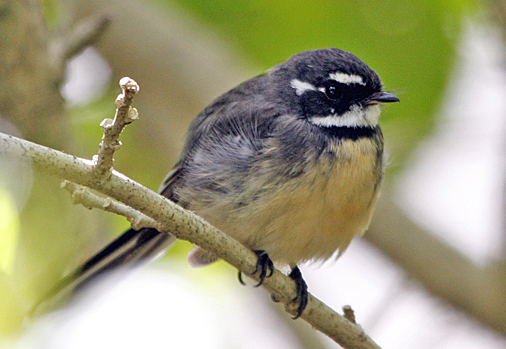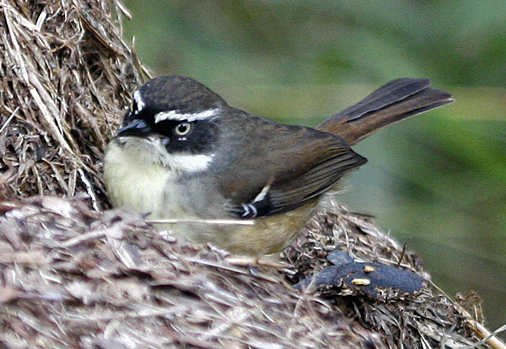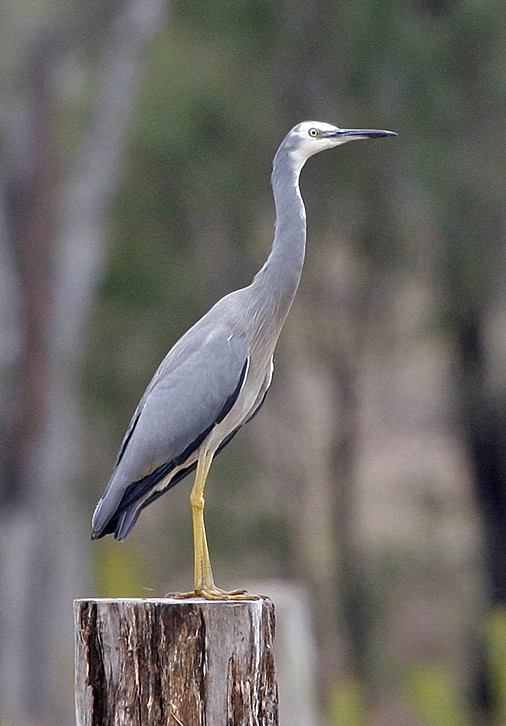 White-faced Heron


---

June/July, 2011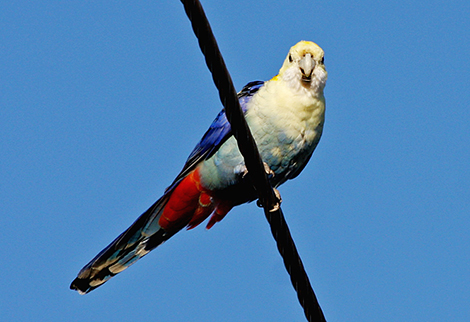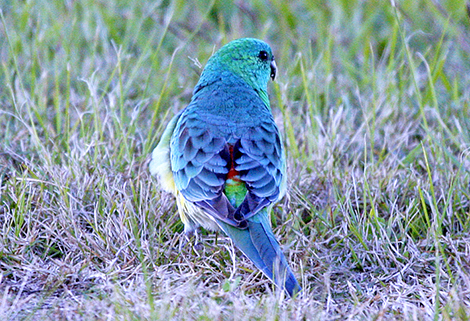 Square-tailed Kite - and with a Torresian Crow for a handy size comparison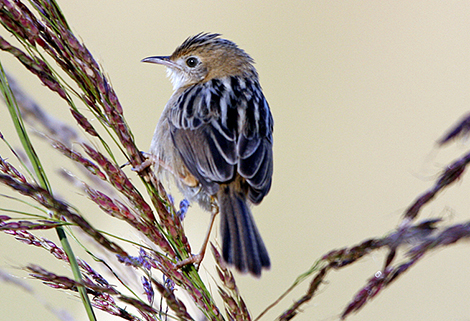 Golden-headed Cisticola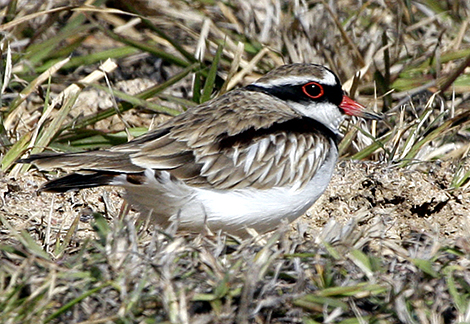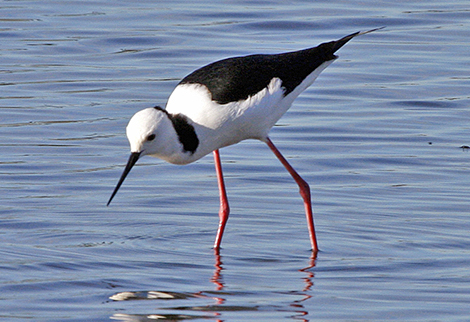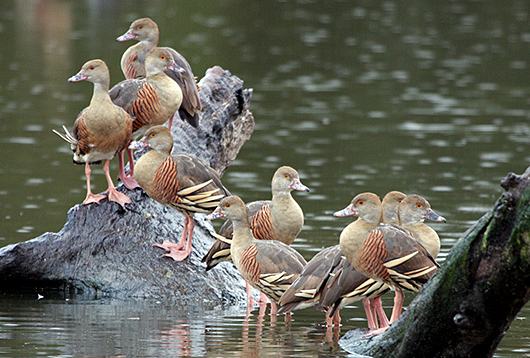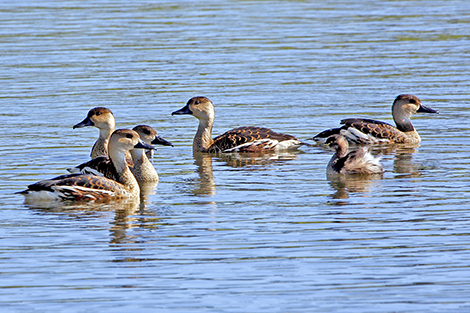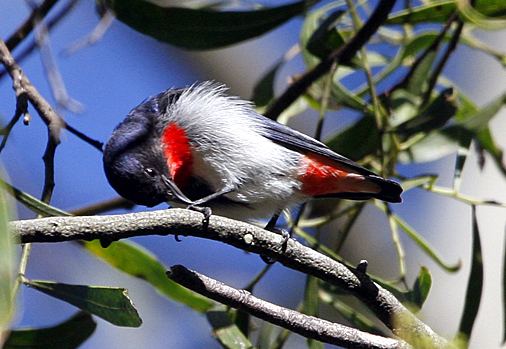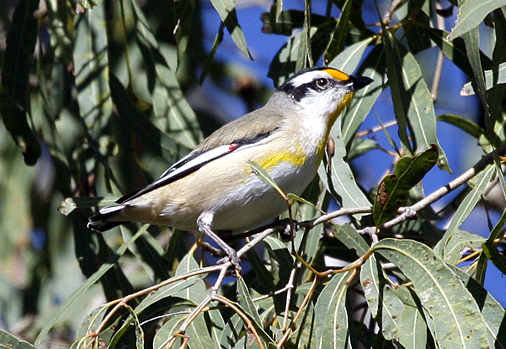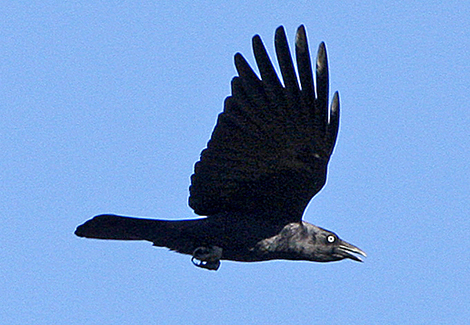 Torresian Crow



---

10th August, 2011 - A Red-letter Day!
Platypus have returned! A truly uplifting moment, standing by the creek musing on how next to proceed with the restoration of this so special habitat that held such an abundance of life, when a platypus just pottered by, practically at our feet, just the way they have been doing for the 25 or so years we've lived at Abberton and for all the millennia that they lived here before us or anybody else. I won't wax on - but my word it's a great country this! As to the birds, whipbirds and yellow robins are here, a Rose Robin too, lots of small passerines, shrike-thrushes calling beautifully, Black-fronted Dotterels, Hardheads, ducks and egrets and such on the creek, Brown Quail are noisy and obvious just now, plenty of passing raptors as ever including a regular Square-tailed Kite over the last month or so.
We've planted 1800 tube stock along the creek bank over the last few weeks, with another few thousand plantings to go!

It's an ill-wind..... I think we could end up with some new Abberton birds out of this!


---

September, 2011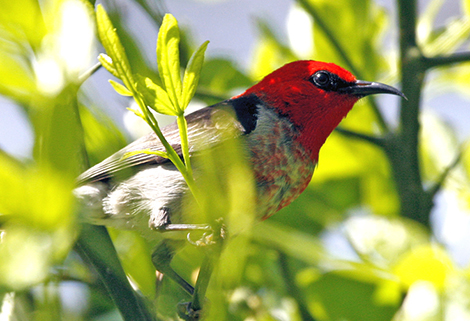 Scarlet Honeyeater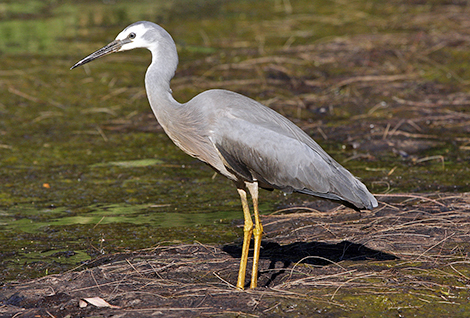 White-faced Heron


---

October, 2011 - New bird for Abberton!
Latham's Snipe! - as I was saying, it's an ill wind...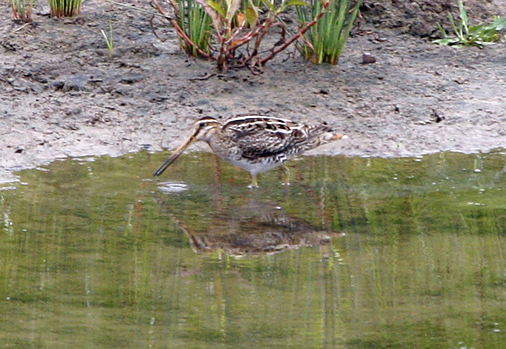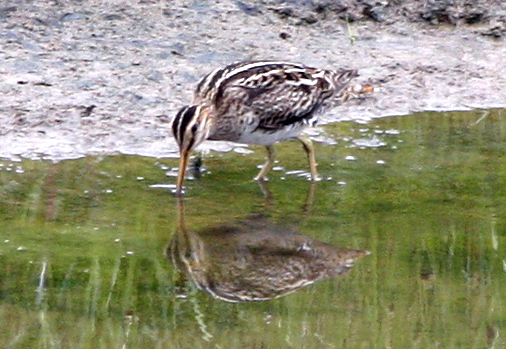 Latham's Snipe


The new wider margins to Lockyer Creek as it flows through our place today delivered their first new bird to the Abberton list, a Latham's Snipe. When they find a good spot, they tend to stay around for some time - fingers crossed! First seen from a window looking out onto the creek, it brings our garden list to 211spp, and our verandah list to 204. It's the first new bird on our list for nearly two years, but I suspect these developing margins could yield more before summer's been and gone. I mentioned in a previous posting that Platypus have returned, so too have Water Rats and Echidnas, Black Bittern, and Nankeen Night-heron. Raptors and garden birds seem just as evident as before the flood - in fact nearly everything seems to be back. Thanks to very generous help from SEQ Catchments, Land for Wildlife, the Green Army and other friends and volunteers, we've planted about 3,800 native tube-stock so far and are well under way to more than replace the vegetation we lost in January.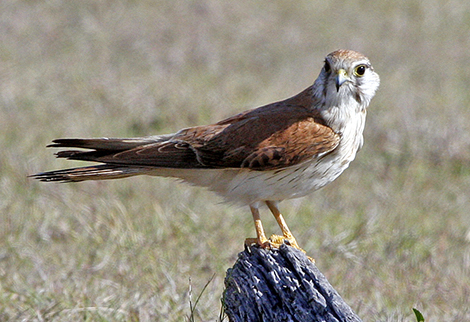 Nankeen Kestrel



Dollarbird





Five minutes in the hectic day of a Koala

Koalas are usually somewhere in the garden. They can be hard to find if you try to look for them, but we often stumble across them high in a eucalypt when we're looking for something else. They are active at night, and frequently very noisy then. But during the day, they are the picture of nonchalant disinterest - an intital glance down to check you out, start to get comfortable again, a quick double-check, then back to some serious dozing.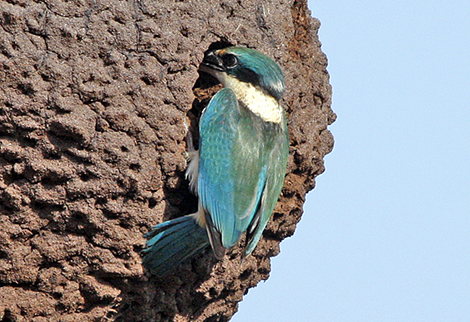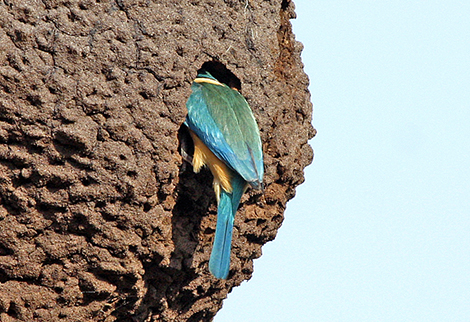 Sacred Kingfisher at its nest-hole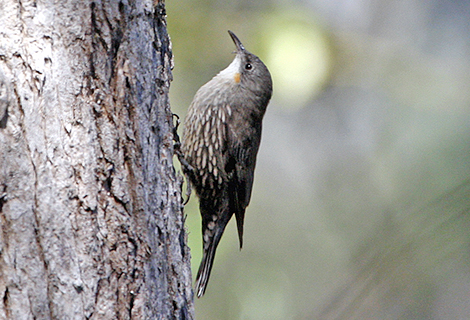 White-throated Treecreeper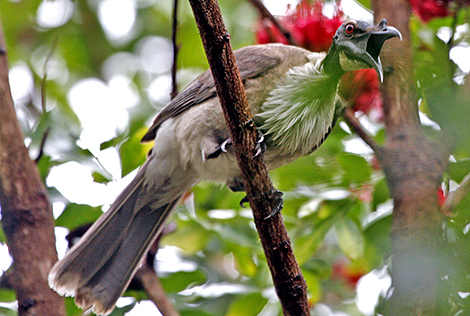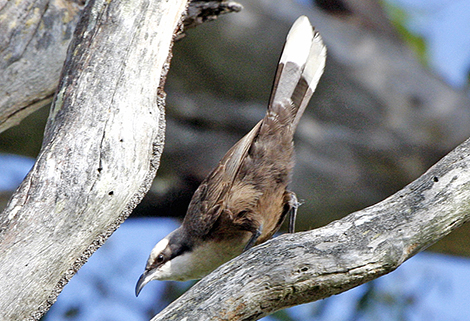 ---

30th October, 2011 Cotton, Peter, Bee.......
Toowoomba Bird Observers are conducting their annual species census this-weekend, and I rang Michael Atzeni
yesterday morning to let him know about a couple of unusual visitors (birds, that is) at Abberton.
Telstra converted my short voice message into a text, and Michael received the following:
"Cotton Peter Bee Keys Everton",
from which he deduced correctly that we had Cotton Pygmy-Geese at Abberton!
I'll just text it myself in future! So, good birds are continuing to turn up on our enlarged creek and its enlarged margins.
The last time we had Cotton Pygmy Geese here on the creek was Christmas Day 1997.


---

November, 2011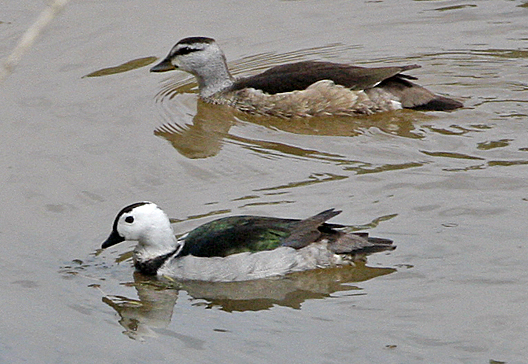 Cotton Pygmy-Geese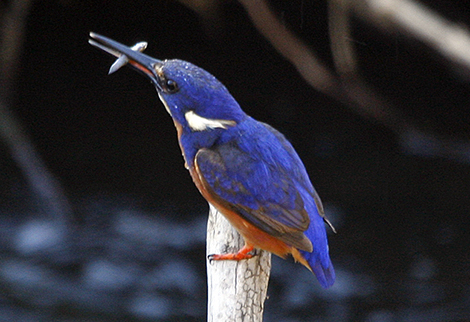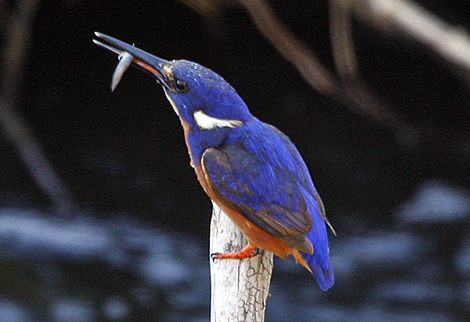 Azure Kingfisher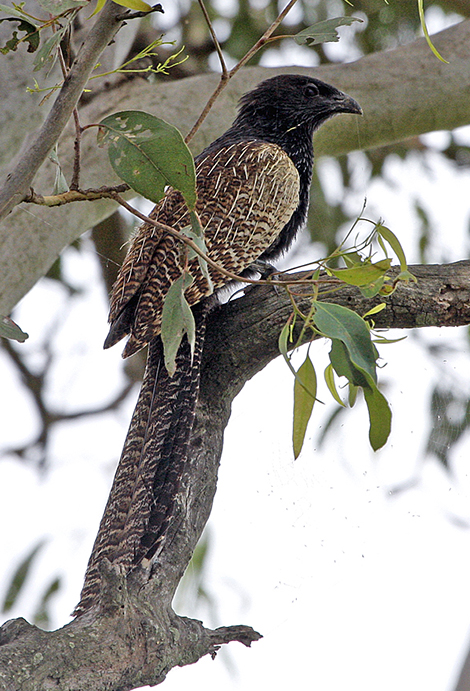 Pheasant Coucal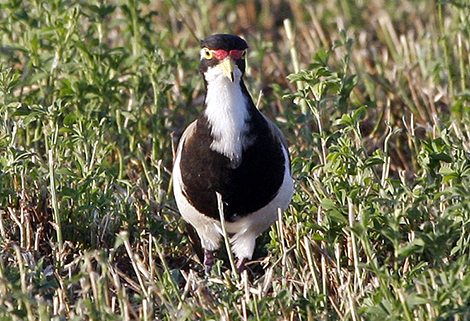 Banded Lapwing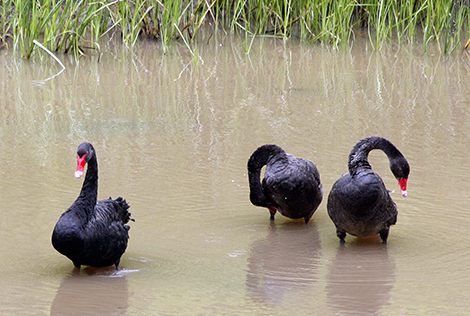 Black Swans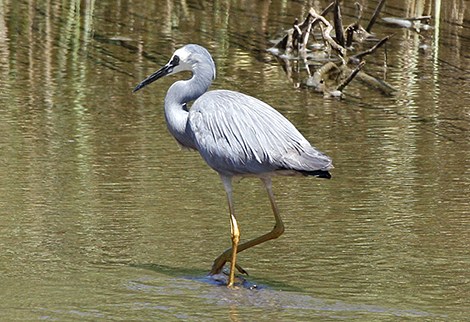 >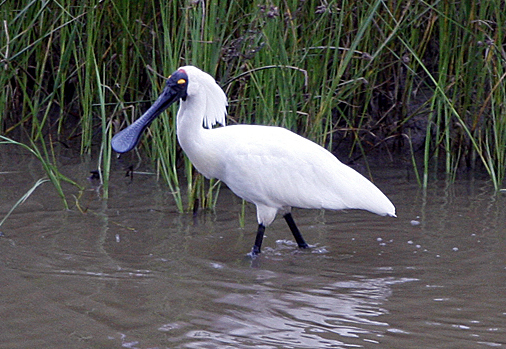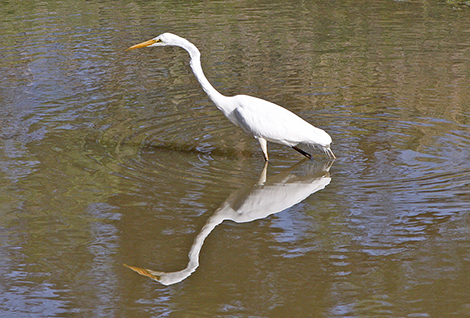 Eastern Great Egret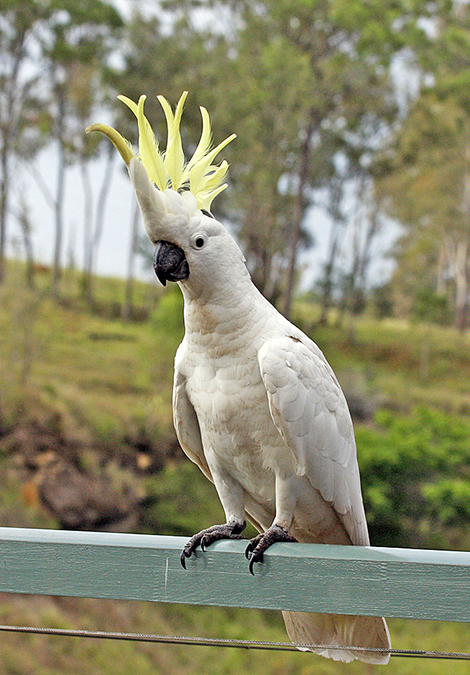 Sulphur-crested Cockatoo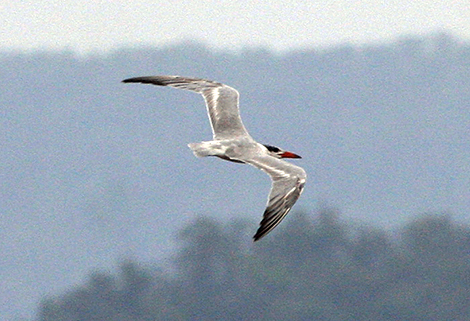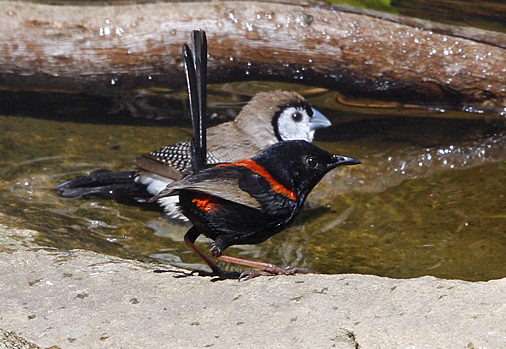 ---

11th December, 2011 - Yesterday, Wandering Whistling Duck - Today, Black Bittern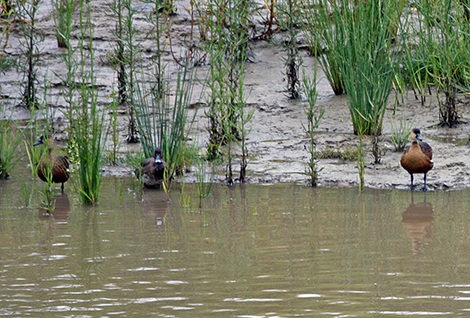 Wandering Whistling-Duck to the left and right, with a Hardhead between them


I've mentioned previously that Lockyer Creek at our place is wider and shallower than hitherto, with some good newly regenerated margins. Accordingly, we've had an influx of waterbirds and waterside birds including Latham's Snipe, daily spoonbills, Cotton Pygmy Geese, multi other ducks and yesterday bird #212 on our house list, Wandering Whistling Duck.

And this-morning, as I sat with a cup of tea at about quarter-past seven, a Black Bittern came straight down the middle of the creek. I thought it would just carry on past the house and under the bridge, which they often do, but, right in front of the house, it chose to drop into the long grass on the edge of the creek opposite, and disappeared.

Of course, I grabbed my camera and got ready for it to come out. I could see the grass moving as it made its way to the water's edge, so I stayed inside the house concerned that opening the doors and going on the verandah might just stop it in its tracks. The bittern continued part way out and stood, neck stretched, just inside the edge of the grass. Not a great view, but worth a shot.
So, I sat in the armchair nearest the window and raised the camera - and it took off!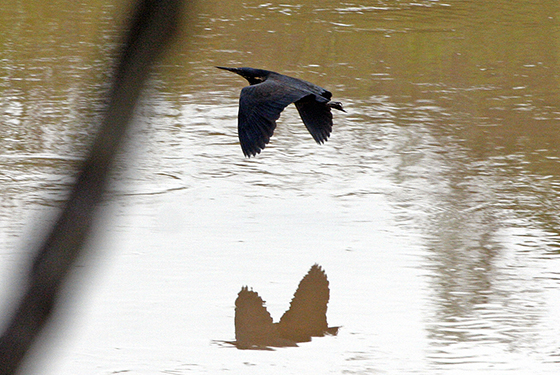 Black Bittern



Just a few speedy clicks as it made its way down the creek away from me - but a couple of recognisable shots.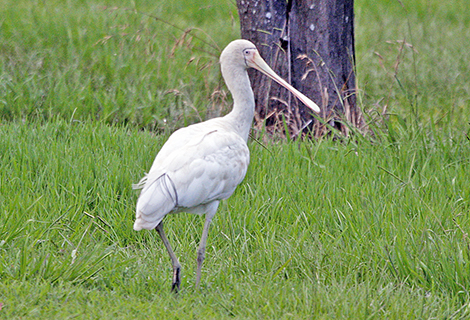 Yellow-billed Spoonbill





Royal Spoonbills





Plumed Whistling-Ducks, Hardheads and an Australasian Grebe in front of the verandah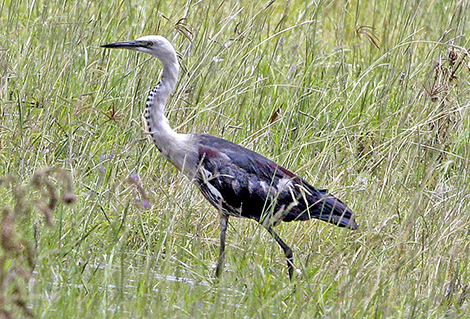 White-necked Heron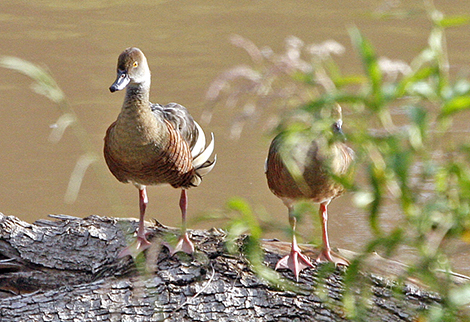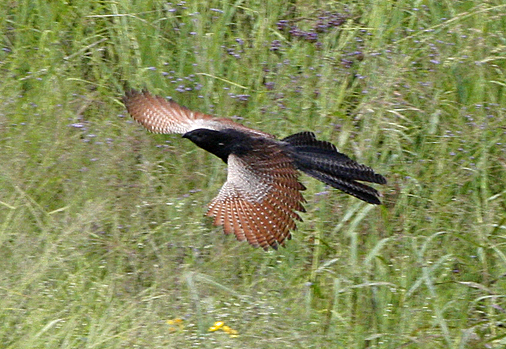 Little Black Cormorants feeding en-masse
As I sign off for 2011, I'm glad to report that both creekside and garden cover is coming back thick and fast with the bird representation back where it was before last year,
that is back to over 100 spp around the garden most months of the year.

And as it's Christmas, here's a jolly photo with seasonal colours. I thought I was photographing spoonbills from the verandah, but got photo-bombed by a Galah!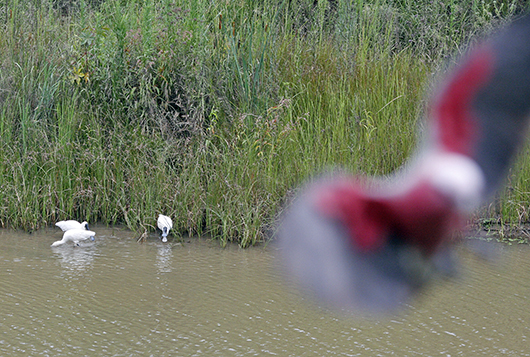 Please feel free to CONTACT US with any questions !
We are always pleased to answer any queries and to help
you in any way we can to plan your trip to Queensland.

email us at: jollyabberton@bigpond.com

Bill Jolly, Abberton, Helidon, Qld
(27º 34' 21' S; 152º 08' 21' E)